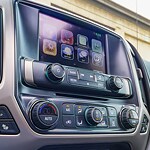 If you are unable to afford a new vehicle, the other option is to get a used vehicle. While a lot of people may think this means getting a somewhat unreliable vehicle, there are ways to get around the common worries that come with getting a used vehicle. One way is by going through the GMC Certified Pre-Owned program.
One of the main advantages to vehicles in the GMC Certified Pre-Owned program is that they are more likely to be reliable because of the thorough inspection and work that was put into the vehicle so that it can run almost as if it was a new vehicle.
One of the best things about the certified pre-owned vehicles from GMC is that the vehicles are relatively recent. They are also put through a thorough inspection and reconditioning to get it in the best shape that it can be.